May Botanical Box [Limited Edition]
$77.00
Or 6 payments from

$12.83
What's this?
$77.00
Or 6 payments from
$12.83
What's this?
💌FREE WORLDWIDE SHIPPING*💌
❤️️ You Are Purchasing 1x Limited Edition May Botanical Astral Box ❤️️
(this is not a subscription to the Astral Box)

If you would like to Save and Subscribe to Astral Box Monthly Subscription click here.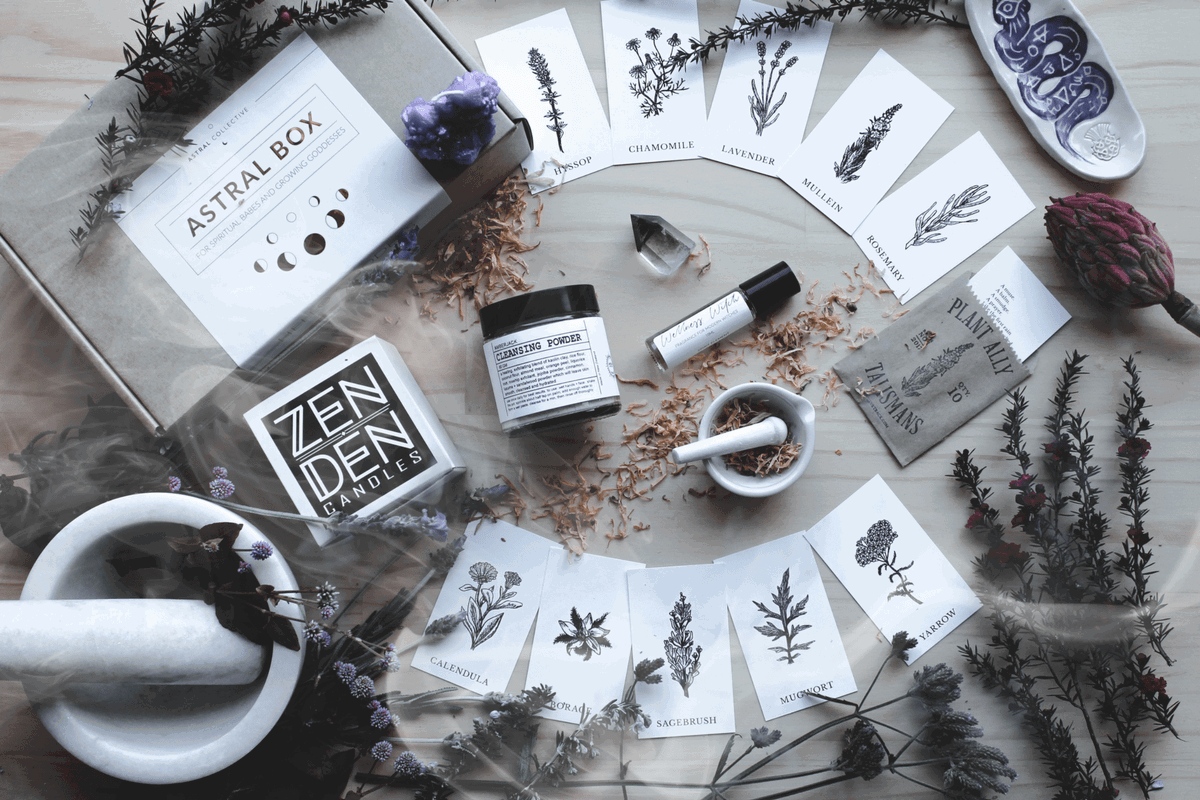 WHAT'S INCLUDED
TOTAL RETAIL VALUE $122NZD


Velvet Back Plant Talisman Cards (Retail Value: $11nzd)
The creator of this card set is a true artist, usually Velvet Back specialises in botanical remedies and self-care items, she expanded her love of plants and herbs to the written word and illustration. Capturing the feelings and qualities of these plants into a magical set of cards for everyone.
Spirit Element Wellness Witch Perfume (Retail Value:$22nzd)
Wellness Witch is a part of Spirit Elements Modern Witch Perfume Collection. This perfume is for your inner yogi, she meditates, she takes time for self-care and she intentionally nourishes her body. It features a multi-note blend of rose, ylang ylang and ultra healing cypress for a fresh, unexpected punch of tranquility. This blend is relaxing and has just the right vibe for chill, carefree days.
Zen Den Candles - Lavender Aura Mini (Retail Value: $14nzd)
LAUNCH VIP! This is the first time Zen Den Minis have made an appearance anywhere in the world! You will be the first to receive one. Zen Den candles are from Canada, Zen Den Candles creates gorgeous handmade vegan friendly candles with amazing detail and love. Light with love and be sure to check out the regular Zen Den candles.
Amberjack Cleansing Powder (Retail Value: $29nzd)
We're proud to present a 100% New Zealand made and owned apothecary style beauty! Ever heard of cleansing powders? Here's your very own to try, lovingly made in Paeroa with all natural botanical ingredients. It's also worth checking out their range of unique botanical scented candles and skincare too!
Handmade Mini Porcelain Mortar & Pestle (Retail Value: $16nzd)
An ancient tool that connects you to ancient rituals and remedies. Use to prep your herbs & spices for dinner. Or for your natural remedies and spiritual rituals. The Mortar and Pestles is also a symbol of God and Goddess, for a symbol of balance between masculine and feminine energy.
Garden Quartz Point - High Grade Lodolite (Retail Value: $30nzd)
This crystal contains natural earth elements giving it the appearance of a miniature garden. Capturing your own mini ancient botanical world. Spiritually this crystal is used as a grounding stone because of it's earth energy. Popular for meditation or transforming a part of your life that you want to change.