June Cosmic Child Box [Limited Edition]
$77.00
Or 6 payments from

$12.83
What's this?
$77.00
or make 4 interest-free payments of $19.25 NZD fortnightly with
More info
Or 6 payments from
$12.83
What's this?
💌FREE SHIPPING*💌
❤️️ You Are Purchasing 1x Limited Edition June Cosmic Child Astral Box ❤️️
(this is not a subscription to the Astral Box)

If you would like to Save and Subscribe to Astral Box Subscription click here.
*free shipping applies to only US, CAN, NZ, AUS, UK and EUROPE (See the full list in our FAQ)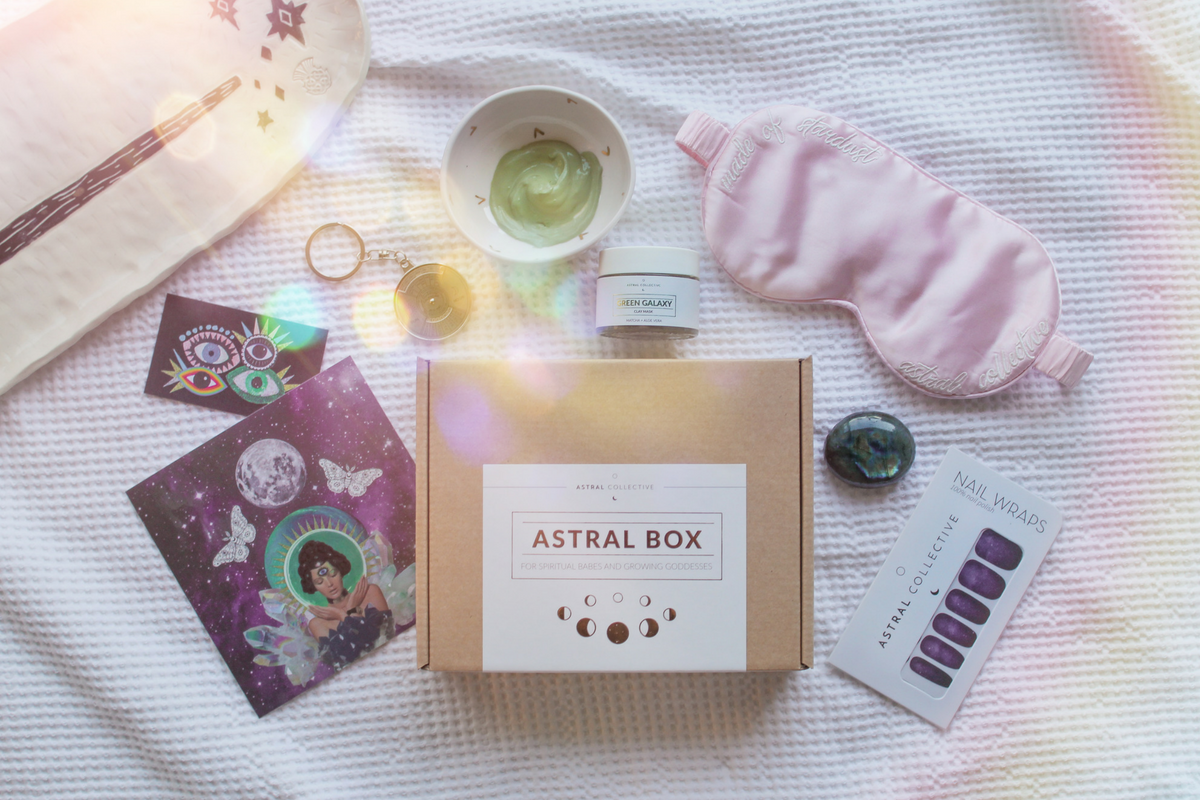 WHAT'S INSIDE
LABRADORITE POLISHED GEMSTONE (Retail Value: $21 NZD)
The stone of magic. Inuit peoples say Labradorite fell from the frozen fire of the Aurora Borealis. AKA Northern Lights. It represents the separation of the world from unseen realms of the sky.
AMBER BIBBY ART PRINT 'COSMIC CHILD' (Retail value: $17 NZD)
Amber Bibby is a talented Artist who creates handmade art pieces and custom art for clients. She has created this exclusive print inspired by 'cosmic child' for Astral Babes only! Limitied Edt. Don't miss out!
ASTRAL COLLECTIVE GALAXY MASK (Retail value: $24 NZD)
NEW RELEASE! Green Galaxy is our latest skincare product! 6-8+ Masks inside . With Aloe Vera + Matcha as the hero ingredients it's sure to send your skin to heaven and back again.
GALAXY NAIL PRINT ART (Retail value: $8 NZD)
Sometimes, having pretty nails is the little difference for a normal day becoming a little magical. We're not as clever as some nail artists out there, so we've got you sorted with easy to apply galaxy nails! Made from 100% real nail polish.
SILK EYE MASK (Retail value: $35 NZD)
Our "Made of Stardust" eye mask is here to make you feel pampered. Pure Mulberry leaf silk helps retain moisture in the skin for plump under eyes, and prevents wrinkles by not tugging the skin like satin or cotton. A luxurious item you may not have bought for yourself.
SUN & MOON PERPETUAL CALENDAR (Retail value: $15 NZD)
This tool is pure magic and practicality! Just turn the dial, place the year over the month and you have 40+ years of dates and days including leap years. The Moon and Sun symbol represents rebirth, strength and balance.