Astral Chakra Box [Limited Edition]
$77.00 $130.00
Or 6 payments from

$12.83
What's this?
$77.00 $130.00
Or 6 payments from
$12.83
What's this?
❤️️ You Are Purchasing The Limited Edition Astral Chakra Box ❤️️
(this is not a subscription to the Astral Box) 
Only Available While Stocks Last.
*worldwide shipping available to only US, CAN, NZ, AUS, UK and EUROPE (See the full list in our FAQ)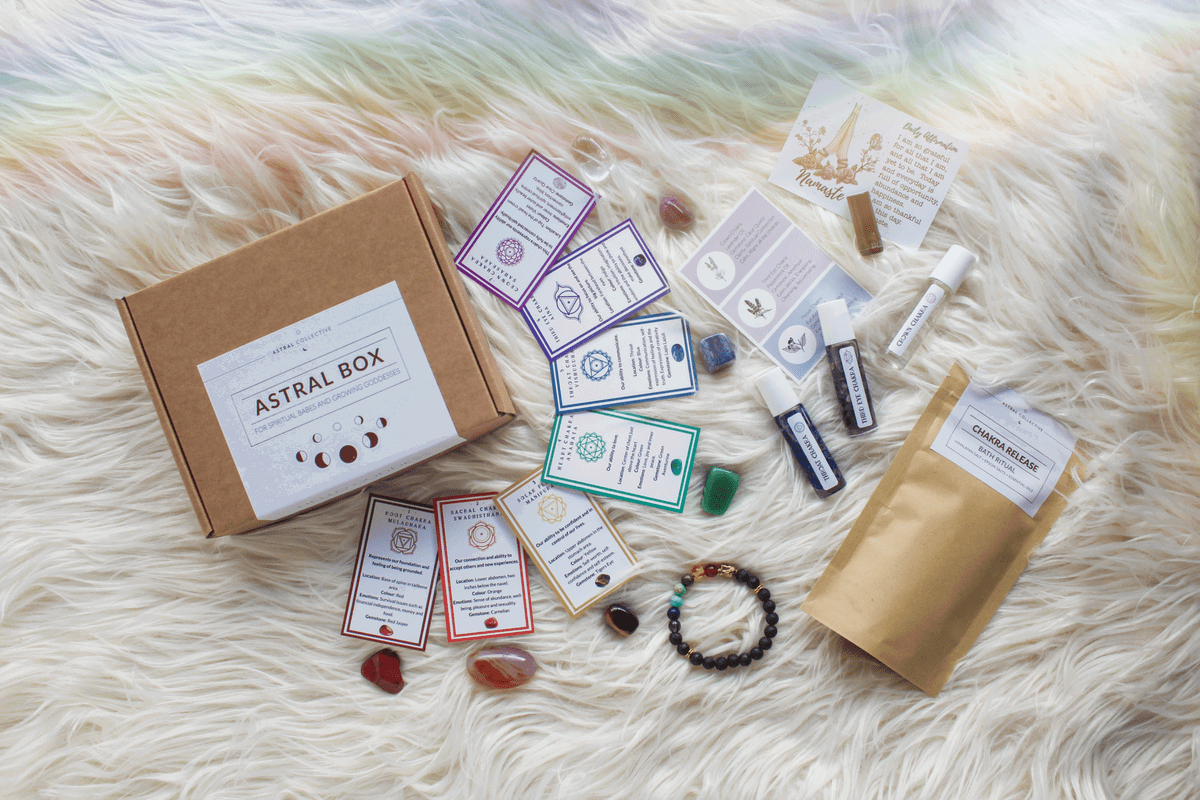 WHAT'S INCLUDED
TOTAL VALUE $130nzd

CHAKRA STONE SET (Retail value $26)
7 GEMSTONES! Your very own complete set of gemstones that correspond to each chakra. Clear Quartz, Amethyst, Lapis Lazuli, Green Aventurine, Tigers Eye, Carnelian and Red Jasper!
UPPER CHAKRA OILS SET WITH GEMSTONES (Retail value $49)
CHAKRA AROMATHERAPY: Balance your upper Chakras! Crown, Third Eye and Throat Essential Oil Rollers.Selected to correspond with each chakra and infused with gemstones + the common plastic roller has been replaced by a gemstone roller, better for the planet and you!
BALANCING BATH SOAK (Retail value $21)
Use a little pampering and relaxation while re-aligning your chakras. Blended with salts, minerals and essential oils to keep your balance and realign after a long week, or day. Can also be used as a foot soak/bath during a chakra meditation, or as a steam in the shower.
CHAKRA CARD SET VALUE (Retail value $14)
Astral Box is about learning new things, and the tools to bring physical, mental and spiritual well being into your life. This card set is an easy way to learn your chakras and what they correspond to! Use it as and grounding activity by drawing a card randomly and working on the Chakra drawn as needed.
CHAKRA & LAVA STONE BALANCING BRACELET (Retail value $20)
This chakra bracelet is a reminder to keep a balanced and aligned life. Made with Glass and Gemstone Beads + Lava stone to keep you grounded. You can drop essential oil on the Lava stone for aromatherapy all day long.
This Is A Limited Edition Box! Only Available While Stocks Last.