April Self Love Box [Limited Edition]
$77.00
Or 6 payments from

$12.83
What's this?
$77.00
Or 6 payments from
$12.83
What's this?
💌FREE WORLDWIDE SHIPPING💌
❤️️ You Are Purchasing 1x Limited Edition April Self Love Astral Box ❤️️
(this is not a subscription to the Astral Box)

If you would like to Save and Subscribe to Astral Box Monthly Subscription click here.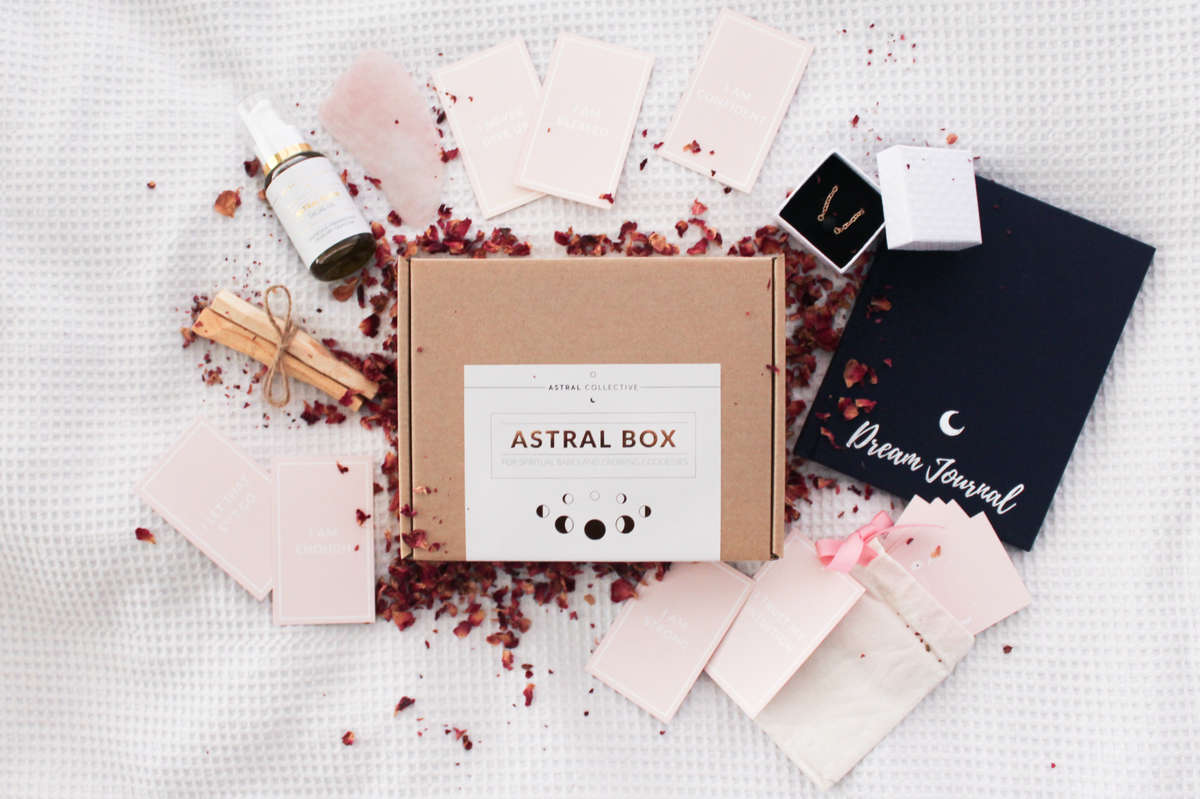 WHAT'S INCLUDED
TOTAL RETAIL VALUE: $135 nzd
ROSE QUARTZ GUA SHA
Keep your Chi (Energy) flowing with Gua Sha. Traditionally used to relieve muscle tension and pain, while keeping your energy free and flowing. Made from Rose Quartz which is the crystal spiritually used for self-love and your heart chakra.
VALUE: $28nzd

DREAM JOURNAL
Your dreams are the genesis of everything you do, create, achieve and become. Write them down and make them come true with your new Dream Journal!
VALUE: $25nzd


ASTRAL FACIAL ELIXIR
Astral Elixir is one of Astral Collectives first products, and has and incredible 5 star rating. A sensorial facial oil that absorbs quickly and does not block pores! With aromatherapy, essential oils and a Quartz crystal inside to make it the daily moment your soul needs the most! Can be used as a treatment, moisturiser or oil cleans. Create a self-love beauty ritual every day. Vegan Friendly, Cruelty Free + 100% Natural.
VALUE: $47nzd


PALO SANTO AKA HOLY WOOD
Get your space ready for some serious self-love work. Burn this holy wood for as a heavenly incense that you will not believe comes from a tree, cleanse your space of bad thoughts and negative vibes. This wood is sustainable sourced from naturally fallen trees in Ecuador.
VALUE: $7
LAVA STONE NECKLACE
The biggest trend right now in Aromatherapy. Lava stone jewellery is being used to personalise aromatherapy and make it available all day long. Place a drop of your chose oil onto you lava stone bead and breathe in the healing qualities of aromatherapy all day. We recommend trying Bergamot Oil for self-love! Re-useable, just rinse when ready to update your scent.
VALUE: $22


AFFIRMATION SET
Your pocket cheerleader! This set of cards is ready to enhance your mental wellness practise and motivate you. Carry in your pocket, bag, or leave in a special place so you can draw a card when it is most needed in your life.
VALUE: $6
This Is A Limited Edition Box! Only Available While Stocks Last.