Luna Box
$77.00
Or 6 payments from

$12.83
What's this?
$77.00
Or 6 payments from
$12.83
What's this?
🌙 This box is filled with everything Love, Luna and Learning.
We cannot wait to share the magic of this Astral Box, the many women run brands inside it that you are about to meet, and the natural rhythm of the moon entwined in our everyday lives.
🌏 Worldwide shipping available - click the shipping tab for more info.
📦Shipping
We've got you covered so you can shop online stress free.
If your parcel is lost in the post we provide a replacement to you at no charge. If your items are damaged during delivery, we will provide a replacement to you at no charge.*
We Ship To:
Prices will show in New Zealand Dollars ($NZD) and not your local currency. In most cases it is a lot cheaper for you! YAY! 
New Zealand:

 

Free Shipping.
Australia:

 

$4.32 ($3.99AUD) International Shipping OR $10.80 DHL Express ($9.99AUD). 
United States:

 

$10.70 ($6.98USD) International Shipping.
Canada: $18.00 ($15.50CAD) International Shipping.
United Kingdom:

 

$19.50 (£10 GBP) International Shipping.
Europe:

 

$17.37 (€10 EUR) International Shipping.
Asia:

 

$14.99NZD International Shipping.
To find out more info on shipping you can enter your address and country into checkout! This will calculate it based on address. 
We've added in estimations for local currencies in brackets. These are not set and will vary with exchange rates. 
* To find out more details about getting replacements for lost of damaged items take a look at our comprehensive guide here 
WHAT'S INSIDE THE LUNA BOX?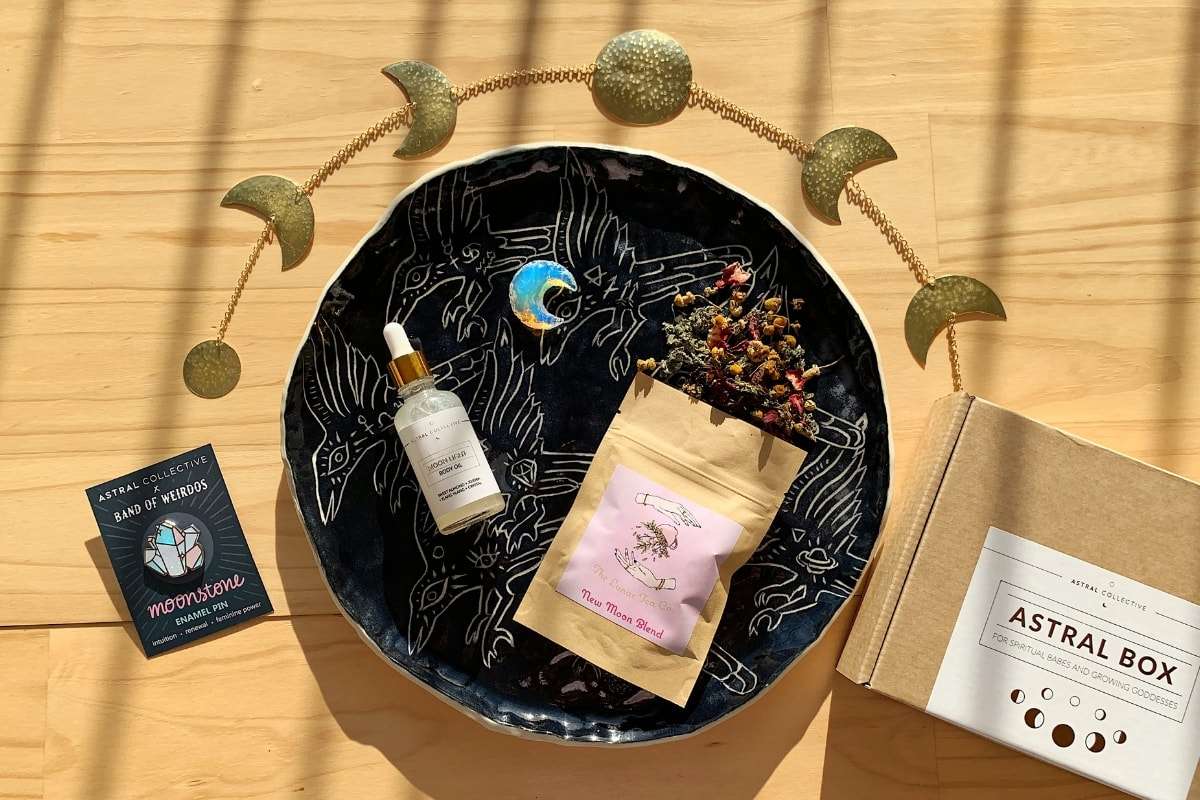 TOTAL RETAIL VALUE OF ITEMS $147nzd
🌙
Moon Light Body Oil
Back by popular demand! This Moon Light Body Oil gives you subtle shimmer with heavenly scents & natural nourishing oils. Sweet Almond Oil and Jojoba moisturise and nourish your skin leaving it soft. Ylang ylang is used to maintain moisture in the skin, leaving it hydrated and glowing.
🌙
Opalite Moon Crescent
Opalite is used spiritually for feelings of peace, calm, and reaching your higher self. This man made stone is similar in structure to Opal, with tiny spheres of Silicon Dioxide which stack onto each other in a pyramid grid shape. Which gives it the stunning effects in different lights.
🌙
Band of Weirdos
Moonstone Pin
@bandofweirdos
This custom pin is designed by Jacie, the Cincinnati-based artist behind the brand Band Of Weirdos where you will find clothing, accessories, paper goods and gifts that mix nerdy loves with nostalgia and sass!
Moonstone crystals are used to channel intuition, renewal and feminine power. They are linked to the energy of the moon and its ability to influence our flowing emotions. This pin is a reminder that you hold the same power.
🌙
The Lunar Tea Co
New Moon Blend
@thelunarteaco
The Lunar Tea Company. Hand curated and organic Lunar Cycle teas for life, ritual, and moon magic. The intention behind the NEW MOON Blend, is to tap into the divine feminine essence. Create deep comfort and a feeling of 'at home' in the body, the drinker will be in a optimal space for soul manifestation.
🌙
CohenKshop
Gold Moon Hanging.
@cohenkshop
Set your intentions with our magical moon hanging. The moon phases symbolize immortality and eternity, and will guide you to the your own light, or the dark side of nature herself. Cohenkshop started out with a young mother's dream to create beautiful and inspiring decor
WHAT OTHER GODDESSES SAY ABOUT THE ASTRAL BOX